Strong powder sales to Mexico drive volume gains.
U.S. dairy export improved in August, led by a 22-month high in shipments of nonfat dry milk/skim milk powder (NDM/SMP) to Mexico. In the first eight months of the year, exports of NDM/SMP, whey products and lactose all continued to run at a record pace.
Suppliers shipped nearly 190,000 tons of milk powders, cheese, butterfat, whey products, and lactose in August, up 12% from August 2017. Total U.S. exports were worth $480.9 million, 3% above a year ago. In the first eight months of 2018, dairy exports totaled $3.82 billion, 4% more than the same period in 2017, while overall volume was up 17%.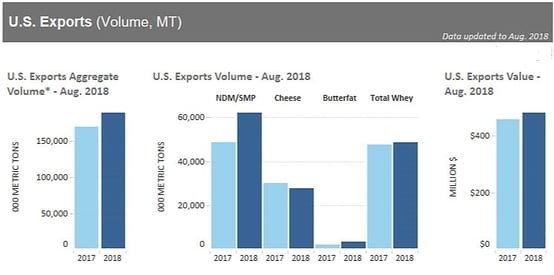 On a value basis, higher sales to Mexico ($126 million, +13%) and Southeast Asia ($63 million, +17%) offset a large drop in sales to China ($34 million, -33%). Exports to China were the lowest in nearly two years.
Exports of NDM/SMP totaled 62,313 tons, a 26% increase vs. a year ago. Shipments to Mexico (36,059 tons, +64%) were the most since October 2016, while sales to Southeast Asia (mostly Philippines, Indonesia and Vietnam) were up 35%. These gains offset declines in exports to China (-31%), Pakistan (-96%) and Japan (-76%). In 2018, U.S. exporters are shipping nearly 13,000 tons of NDM/SMP per month more than last year.

(USDEC has adjusted official U.S. Bureau of Census trade data for NDM/SMP and WMP since June 2016 to account for shipments we believe are misclassified.)
Whey exports improved to 48,982 tons in August, up 2% vs. a year ago. However, newly implemented tariffs are having an impact on sales to China. Total whey sales (14,635 tons) were off significantly (-26%) for the second straight month, with nearly all the August decline from lower sales of modified whey (permeate). In contrast, U.S. suppliers continued to move greater volumes of whey products to Southeast Asia, where August shipments reached a record-high 11,344 tons, 40% greater than the prior year.
Lactose exports totaled 34,787 tons in August, 16% greater than levels in August 2017. Shipments to China (8,353 tons) were up 24% and exports to New Zealand (3,824 tons) were up 59%.
Cheese exports were 28,171 tons in August, down 7% from last year. Cheese shipments to Mexico (6,610 tons, -21%) were lower for the second straight month, when additional tariffs were implemented. Results were mixed among other top markets. Strong gains were posted in exports to Central America (+33%). Exports to Australia were the most in nine months, while shipments to South Korea were the lowest in seven months. Sales to China and Canada were both off more than 40% vs. year-ago levels.
Butterfat exports totaled 4,146 tons, up 56% from the year before, led by increased sales to Mexico (1,755 tons, up more than five-fold).
Exports of MPC continued to track higher in August. Shipments of 3,041 tons were nearly double last year's total, with higher sales to Canada and Mexico.
WMP exports were 2,815 tons, up 3%, with a loss of sales to China offset by increases to Southeast Asia.
Shipments of fluid milk and cream were flat. For the third straight month, Taiwan (4.1 million liters, +37%) was the largest U.S. customer.
On a total milk solids basis, U.S. exports were equivalent to 16.8% of U.S. milk production in August, bringing the year-to-date percentage to 16.6%.
Article sourced from the U.S Dairy Export Council 
For a thorough overview of all dairy commodities, watch our latest dairy market update video now.